Story and video by Rick Padden, American Red Cross
One of the great things about being a Red Cross disaster responder is the huge circle of friends that you develop over the years. Often you can disconnect with someone and then later, often years later, meet up with that person at a disaster response operation. Kathryn Addrisi and George Kirchner had been friends while living in Alaska. Together, with their spouses, they would go out to dinner, go fishing or just hang out together. Life happens and the two couples separated. George remained in Alaska and Kathryn found her way to Grand Junction, CO.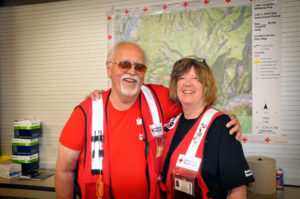 Along comes the summer of 2018 and the Colorado Wildfires. When the Lake Christine Fire caused evacuations the Red Cross was called on to open an evacuation shelter.  Of course, that meant there was a need for volunteers to help at the shelter. Kathryn jumped at the chance to help and deployed to the shelter. George, a volunteer with a number of disaster responses behind him also made himself available to help as a licensed mental health professional to provide emotional support for the evacuees.
They both ended up at the shelter in Basalt, CO and the rest is their reunion story. Take a look at the video below to see how it all happened, in their own words.