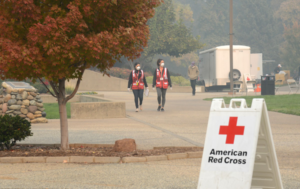 UPDATE- Monday, November 26, 2018 – Support continues for the wildfires in California. Some of the volunteers that deployed early in the disaster are returning home while others are beginning to deploy. Nearly 30 Colorado and Wyoming Region disaster responders have been deployed to the California wildfires. Thirteen people from our region remain deployed.
Thankfully, the deadly Camp Fire in California is now 100 percent contained. For nearly three weeks, the American Red Cross has been on the ground providing shelter, food and comfort to those impacted by these devastating fires.
The Camp Fire incinerated the entire small town of Paradise, and other small communities nearby, reducing homes to rubble and ash. The fire destroyed more than 13,970 residences.
The Camp Fire is the most destructive and deadliest wildfire in California history.
The Woolsey Fire scorched more than 96,940 acres and destroyed about 1,500 structures. This fire is now 100% contained.
 During this holiday season, Red Cross volunteers are supporting Californians left reeling from the deadly wildfires.
More than 890 people remain displaced, seeking refuge at 11 Red Cross and independent community shelters across northern California.
They are being helped by as many as 600 of Red Cross disaster workers who are still on the ground to support shelters, serve meals and provide other assistance.
Red Cross disaster mental health and spiritual care volunteers have provided more than 27,600 contacts to families to provide support and comfort as they cope with the effects of the fires.
Volunteers are also supporting efforts to reconnect families when possible.
People are welcome to come to shelters for help even if they don't stay overnight. We do not require people to show any kind of identification in order to enter a shelter.
The Red Cross is working closely with government and community partners, such as the Salvation Army and World Central Kitchen, to coordinate relief efforts.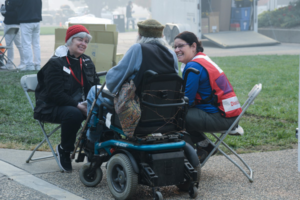 Disasters are upsetting experiences for everyone involved—especially when they cause such massive devastation so close to the holidays. This is a time for people to come together and support one another.
Mental health experts recommend finding a balance regarding media coverage. It's important to stay informed while also limiting exposure, especially for children.
Also, be patient with yourself and others. It's common to have any number of temporary stress reactions such as anger, frustration and anxiety.
To reach out for free 24/7 counseling or support, contact the SAMHSA Disaster Distress Helpline at 1-800-985-5990 or text 'TalkWithUs' to 66746.
 Entire communities and families have been left reeling from deadly wildfires. Help people affected by the California wildfires by visiting redcross.org, calling 1-800-RED CROSS or texting the word CAWILDFIRES to 90999 to make a $10 donation.
Donations enable the Red Cross to prepare for, respond to and help people recover from these disasters.
————————————————————————————————————————————————-
The American Red Cross of Colorado & Wyoming is sending volunteers to help the people affected by the devastating wildfires in California. As of Monday morning, November 12, 2018 we have sent 4 people.
Jim Kramer, with the Red Cross of  Southeastern Colorado, has been assigned to the Camp Fire in northern California. Jim is a certified Physician's
Assistant and will support people at the shelters for the Camp Fire as part of the Disaster Health Services team.
David West, with the Red Cross of Western Colorado, has been assigned to the Camp Fire as a Logistics Supply volunteers. David will be part of the team that handles everything related to moving materials and staff.
Ginger Hazelbaker, from the Red Cross of Wyoming, has been assigned to the Ventura County fires. She will help as part of the Mass Care teams working directly with people staying in Red Cross shelters.
Mary Crawford, from the Red Cross of the Mile High Area, has been assigned to the Ventura County fires and will be supporting all of the deployed Red Cross responders as part of the Staff Ambassador team.
Red Cross volunteers are supporting evacuation centers to provide safe refuge for people impacted by these devastating fires. The Red Cross is also providing meals, health services, comfort and other support for affected residents.
* Overnight, more than 2,100 people sought refuge from the wildfires in 18 Red Cross and community evacuation centers across the state.
* People are welcome to come to shelters for help even if they don't stay overnight.
* The Red Cross does not turn people away who need assistance after a disaster. We are committed to helping all those in need
* The Red Cross has deployed enough supplies to shelter as many as 7,000 people, including special equipment to support people with access and functional needs.
* We are also mobilizing enough relief supplies to serve as many as 15,000 households. Supplies include sifters, personal protective equipment, respiratory masks, rakes, shovels, work gloves, tarps and other resources.
How Can You Help?
The best way to help the people in California who have been affected by the wildfires is to donate to the American Red Cross Disaster Relief. You can do that easily. Just Click, Call or Text.
Click on www.RedCross.org/donate and select the California Wildfires
Call 1-800-RedCross and ask to donate to the California Wildfires
Text the word CAWILDFIRES to 90999. This makes a $10 donation charged to your cell phone bill.
How Can I Find My Loved ones?
Visit www.redcross.org/safeandwell to register your self or to search for someone.