It's good, because it means every last disaster victim has had their housing needs addressed – Red Cross shelters only close when they are no longer needed. As the shelter winds down, Red Cross workers pack supplies into trucks and make house calls, bringing casework services and checking on people during this transitional period. Other volunteers clean bathrooms, sort donations, and pack up supplies in preparation for returning these borrowed facilities back to the people of Blanca and Fort Garland.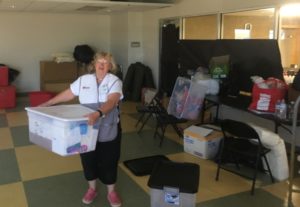 But the most important duty today is preparing for the next disaster.
And there will be a next disaster – the American Red Cross responds to 64,000 disasters every year, from gigantic hurricanes to single family house fires. It's very likely that the Red Cross has responded to a disaster in your neighborhood, using volunteer labor and the generous donations of the American public to provide aid.
If you would like to help your community respond to disasters large and small, consider volunteering or donating by calling 1-800-RED CROSS or visiting RedCross.org.