Red Cross Providing Shelter and Hope
Denver, Thursday, June 21, 2018 – The American Red Cross of Colorado & Wyoming is sending a disaster volunteer to help with the excessive flooding occurring along the Texas Gulf Coast.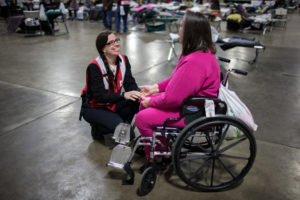 Heavy rains have swamped parts of southern Texas, leading to flash flooding and water rescues. The American Red Cross is there, helping provide a safe place to stay for people forced from their homes by floodwaters. More than 215 people spent Wednesday night in three Red Cross shelters.
Doran Keller is a disaster responder from the Mile High Area. He will be supporting the logistics effort as a warehouse supervisor.
For the latest information about the Red Cross response in Texas please see http://www.redcross.org/news/article/Floods-Can-Threaten-Any-Part-of-US-How-to-Stay-Safe.