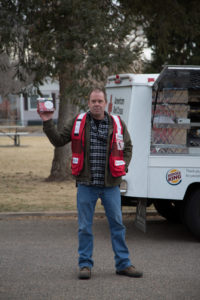 George Sullivan, Regional Preparedness & Response Manager for Colorado and Wyoming, unexpectedly passed away on the morning of February 14, 2018. George brought his vast experience to the Red Cross in 2008 first as a volunteer and then as a program coordinator in 2010 to launch dedicated preparedness programs for the chapter.  He has served as a member of the senior leadership team in his role as Director for the past 6 years. Our hearts are heavy with the loss of our dear friend and valued colleague.
This devastating loss is not only being felt by each of us in the Red Cross family who grieves the passing of an integral and exceptional member of our team, but we can only imagine the tremendous shock and sadness his family is experiencing. Our hearts are with his wife and his two daughters. George's passing is an enormous loss to our organization and to our community as a whole.  His passion for the work of the Red Cross can only be described as overwhelming and extraordinary. He leaves a legacy of work and life that will carry on through the many lives he touched during his time, which was cut short much too soon.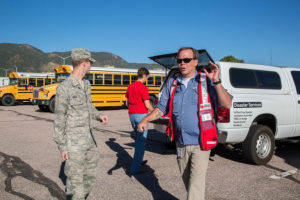 "My heart is heavy.  Today is a sad day, not just for the Red Cross, but for the entire preparedness and response community.  George was an icon – he was an extraordinary man who always advocated passionately that it's all about the clients and the people who serve them," said Gino Greco, CEO of the Colorado & Wyoming Region.  "And in that, it was George's own service that will magnify the loss in our community."
George was proud to be a member of the American Red Cross family. He put so much passion into every task he took on; his job was much more than a job to him, it was where his purpose and passion collided into action. To know George was an honor and to work with him was a privilege. He once said, to a room of public affairs volunteers, "The American Red Cross is not a thing. We are not the federal government. We are not Homeland Security. The Red Cross is a belief system. That image, that (Red Cross) logo, is nothing more than a visual representation of a belief and a promise that when a bad thing comes, your neighbor will be there to help you. It's an image that holds the trust of the American people. You, in Public Affairs, are guardians of that trust. Thank you for that." He lived those words and held those around him to that same standard.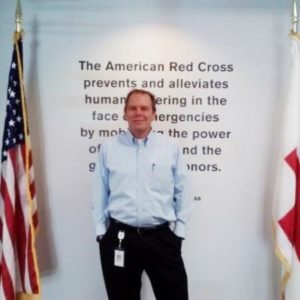 He has an immense list of accomplishments which includes his role as leader and architect of a national pilot program for Active Shooter/Threat Preparedness and Stop the Bleed Campaign, a program that was initiated months ago and is already producing a change in the community conversations around this threat. His work has included the development of an updated Ready Rating module to include Active Shooter guidance; collaboration with the White House Stop the Bleed Educational Consortium; development of a bleeding control kit which empowers lay citizens to save lives, and collaboration with several government and NGO groups all delivering crucial training in this area.
George also served as Preparedness Director for the SWARM Division, coordinating and leading Preparedness programs and endeavors for all 7 Regions within the Division. George served so many roles, to include: COW Region DCS Budget Manager, AmeriCorps VISTA Site Director, Colorado VOAD Vice-Chair, DCS COOP Planning Lead, COW Regional Action Plan Planning Lead, COW Region Long Term Recovery Director, AD External Relations for Disaster Response Operations and the Community Preparedness Advisory Work Group.
He was a deep and wonderful family man. He was a friend and colleague. He will be greatly missed.
We leave you with this post, shared with permission from George's friend and Red Cross colleague, Jaici Murcia.
"This afternoon, I was notified that my colleague, my former employee, my teammate, my friend…George Sullivan, passed away suddenly and unexpectedly in his home. It is still not entirely real…George lived so big and so loud and so unashamed that it seems impossible he is gone. I'm still convinced I'll walk into the office tomorrow to find him smirking over a cup of coffee and yelling into the next office for something.
He responded to every disaster, stood at the forefront of creating quality preparedness programs for the American Red Cross, brought groundbreaking programs and services to the Colorado/Wyoming Region – including most recently an Active Shooter Training pilot program, and served in a million other ways, large and small, that make him irreplaceable.
He was stubborn and gruff and confrontational. He was strong, and wickedly smart, mission driven, passionate, a man who would give the shirt off his back, who would watch your six, who would never say die and go to any length in the name of doing what's right, and he always took the spiders out of my office. He was my friend.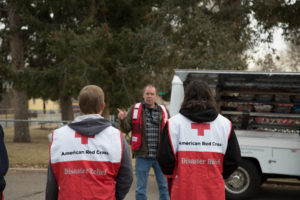 A parting Irish blessing for my proud Irish friend:
May the road rise to meet you.
May the wind be always at your back.
May the sunshine warm upon your face.
May the rains fall upon your fields.
And until we meet again,
May God hold you in the hollow of His hand."
UPDATED SERVICE DETAILS:
The viewing will be at All Souls Catholic Church on Tuesday February 20th at 6:00pm. All Souls is located at 4950 South Logan Street, Englewood, Colorado 80113. This will be followed by the recitation of the rosary at 7:00pm.  The funeral mass will occur on Wednesday February 21st at 10:00am, also at All Souls Catholic Church. The wake will follow the mass and will be held at the Fraternal Order of Eagles located at 3780 South Jason Street, Englewood, Colorado 80110. Interment will take place during a private ceremony at a later date. The full obituary will be available on EllisFamilyServices.com.
In lieu of flowers, George would prefer that donations be made to HoBo Care Boxer Rescue, a dog rescue he supported wholeheartedly and had adopted multiple furry family members from. He would be grateful to see more amazing dogs be saved and protect more families. Directions for donations are available on the website.
The wake will be a celebration of George's life and all that he loved. There will be bagpipers and Irish dancers, and we encourage you to join us and celebrate in the way that George would appreciate.
Post By: Nigel Holderby, Regional Director of Communications