Denver, Wednesday, February 6, 2019 – American Red Cross staff and volunteers responded to 65 disaster events in January 2019 down from 88 in January of 2018. We provided help and hope to 173 people during the month. Our disaster workers also played a significant role in the recovery effort for the Camp Fire in California. Several of our workers were deployed over the holidays to make sure that people had a safe, warm and happy place to be during that period.
During January our volunteers partnered with local fire departments and members of communities to make hundreds of homes in Colorado and Wyoming safer by installing free smoke alarms and teaching home fire safety.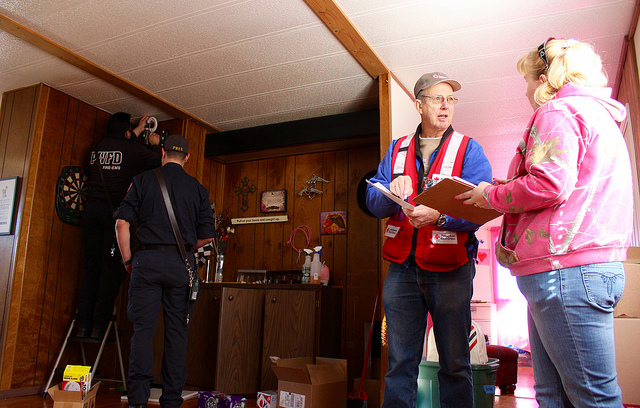 Our teams will continue to bring help and hope in February, a month that averages over 50 disaster responses. We will also be hosting home fire campaign events as we continue to reduce deaths and injuries associated with home fires.
Breakdown of the CO & WY 87 county service area:
Mile High Chapter (MHC): Seventy-one individuals received aid; Twenty-seven were under 18 years of age and 4 were over the age of sixty-five. The MHC response area includes 10 counties in the Denver Metro area.
Southeastern Colorado Chapter (SeCO): Fifty-eight individuals received aid; 2 people were sixty-five years of age and older and thirteen were under 18 years of age. The SeCO response area includes 16 counties.
Northern Colorado Chapter (NoCO): 7 individuals received aid with 1individual being less than 18 years of age. The NoCO response area includes 11 counties.
Western Colorado Chapter (WeCO): 15 individuals received aid. 2 individuals were older than sixty-five years of age and 3 people were under 18 years of age. The WeCo response area covers 27 counties, serving all western Colorado and the San Luis Valley.
Wyoming Chapter (WYO): Twenty-two individuals received aid. One was older than sixty-five years of age and 10 were under the age of 18. The Wyoming Chapter response area covers all 23 counties that make up the state of Wyoming.
The families and individuals were provided a place to stay, money for clothes, food and medicine. Along with providing casework for the residents in a quick and efficient time frame, Red Cross volunteers will continue to provide support to these families going forward, by doing follow up work to ensure all needs are met and the individuals have a clear path to recovery from this personal disaster.