Story by Dave Duran
Walsh Colorado is a town of approximately 500 people located in Southeastern Colorado only a few miles from the Kansas boarder.  They are regularly impacted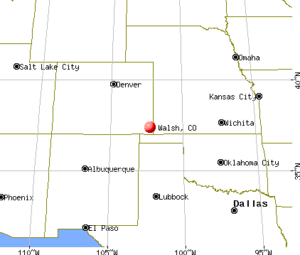 by drought, wildfires and severe thunderstorms in the summer months as well as blizzards in the Winter.  There is a powerful sense of community in Walsh and as you would expect, they primarily rely on themselves.  In the last year, volunteers from the Pueblo office of the Red Cross have reached out to the Walsh Fire Department and community leadership concerning disaster preparation and development of local resources in Walsh.
They were surprised that the Red Cross would offer support to people impacted by a home fire or other disaster.  We discussed that since Walsh is four hours from Pueblo, there is a need to establish local volunteers who could respond much quicker than we could.  They are open to that and we continue working to establish that today.  In addition to these topics, they described the homes within their community as having no smoke alarm protection and how that is an ongoing concern of theirs.  We committed at that point to partner with them for a "Sound the Alarm – Save a Life" event in late spring or early summer 2018.  That event happened Saturday June 2, 2018.
A long day that made a difference
Very early Saturday morning 10 Red Cross volunteers from Pueblo and Colorado Springs traveled the four hours to Walsh.  They were welcomed by an enthusiastic group of Walsh / Baca County Firefighters and other volunteers ready to support the event.  We divided the town into five sections and put together five separate teams. Each team included a well- known local resident from each section.  After a short training, the teams went out into the community on all manner of emergency vehicle with lights flashing.  While teams installed smoke alarms, I drove a Red Cross truck throughout the town re-supplying teams.  Twice I was flagged down by residents asking how they could get smoke alarms in their homes.  During our time there, we installed 104 smoke alarms and reached approximately 75 percent of the town.  I have never seen a town or community respond with so much enthusiasm and appreciation.  It was an absolute pleasure for all to participate in this event.
During the day I met Dorothy Ochoa.  Dorothy is an amazing and vibrant woman who will be 100 years old this December.  She had no smoke detectors in her home. "I think it is a good thing to finally get alarms installed. I know I will feel safer," she said. I told her that it was our privilege to install them.  People like Dorothy are the reason we all do this.
Developing Relationships
This "Sound the Alarm, Save a Life" event was more than just an effort to install smoke alarms.  It was an opportunity to build personal relationships with the firefighters and residents of Walsh.  In the planning stage a few weeks ago, I offered to buy food for the volunteer's lunch.  I was quickly stopped by Kyrie Wright (the Chiefs Assistant) and told, "you are our guests and we don't do things like that.  We will cook for you."  They provided burgers, hot dogs, potato salad, deviled eggs, chips, desserts, drinks and sent us home with jars of canned pickles.  It was a wonderful day and I believe we have made great strides in developing a strong partner in Southeastern Colorado.