By Andrea Carlson
When reports started early in the week that Colorado and Wyoming were in the direct path of what meteorologists were calling a bomb cyclone; emergency managers, city emergency operation centers and community partners all started pulling together to prepare for the devastation that lay ahead.
Fast-forward to Wednesday night. More than 350 people found refuge in a Red Cross shelter in Castle Rock, Colorado. Most of them had been stuck in their vehicles for many hours in the cold while the storm surged outside.
Red Cross Volunteers helping at the shelter

"If It wasn't for you guys being open, we would have either still been on the side of the road, or in a parking lot somewhere," said Mandall Johnson.
Mandall and his wife, brother in law, daughter and granddaughter were in Colorado for his granddaughter's volleyball tournament from Texas. Even though they got up extra early and watched the weather closely, they ran into weather issues and problems.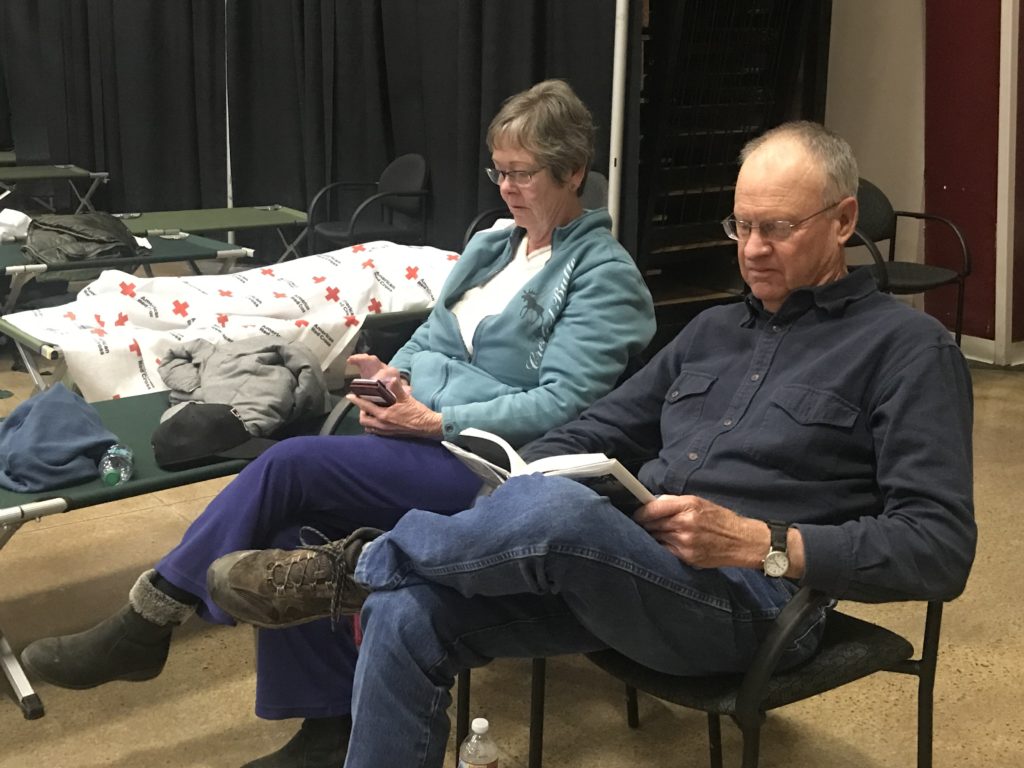 "It was just so bad out there, I've never seen anything like it. All of us adults in the car were all helping and trying to stay on the road. I cannot even begin to tell you how thankful we were when we heard you all were open," said Mandall.
Once the family ate something, warmed up and claimed their corner of the shelter, it was off to work they went.
"We all have gifts and my wife and I both have the gift of service – so we started to help. We jumped in around 6:30 and we dug into about 11pm," said Mandall. "We helped pass out blankets, set up cots, worked the registration desk and helped anywhere else we were needed, this was great. It's been a very positive experience."
At this shelter, hundreds stayed overnight and many more rolled through its doors seeking a warm room, a break from the snow and a hot meal.
For Mark and Mary Henderson, who are visiting Colorado from Big Lake Texas for spring break, this quickly turned into an unforgettable experience.
"Coming from Texas, we have seen the work of the Red Cross before, but we never in all our years imagined we would be in a shelter in Colorado due to a blizzard," said Mary.
Like many others, the Henderson's too got stuck along I-25 and were forced off the interstate when it closed due to conditions. Now they wait, using the Red Cross shelter as a sanctuary away from the storm and conditions until normalcy has returned and the interstates reopen again, giving them a chance to return home.
"We just want to say thank you. More than we could ever get across, but thank you," said Mary.