It has been an incredibly busy year for all of us and some of us are amazed that it is already November and time to change our clock from daylight savings time to standard time. Time to TURN and TEST!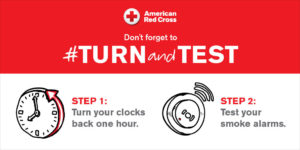 Daylight Saving Time ends this Sunday, November 5 at 2:00 a.m., so remember to TURN your clocks back one hour before you go to sleep. While tackling the clock changing, the American Red Cross reminds everyone it's the perfect time to TEST the batteries in their smoke alarms too.
Home Fire Campaign A fire in someone's home is the greatest disaster threat we face. During a home fire, smoke alarms help save lives. If you don't have them, install them. At a minimum, put one on every level of the home, inside bedrooms and outside sleeping areas. Check local building codes for additional requirements. If you have smoke alarms, test them to make sure they are working. If they are ten years old, replace them.
The Red Cross responds to nearly 64,000 disasters every year – the majority of which are home fires. That means that every day in this country, on average, seven people are killed in a home fire and another 36 people suffer injuries. To end these tragedies and save lives, the Red Cross launched a nationwide Home Fire Campaign in 2014 with the goal of reducing the number of home fire deaths and injuries by 25 percent.
The campaign is making a difference. As of July 31, 2017, the Red Cross and our partners have saved at least 285 lives through the Home Fire Campaign. The campaign is happening all over the country and involves Red Cross workers joining with local fire departments and community groups to visit neighborhoods at high risk for fires. Those visits include educating people about fire safety through door-to-door visits and installation of smoke alarms in some of these neighborhoods. Find out more here.
MORE SAFETY STEPS
While you're at it, this weekend is also a good time to take these steps to make sure your household is prepared for emergencies.
Check carbon monoxide detectors.
Get a kit. Build an emergency kit in an easy-to-carry tote that contains supplies for about three days, to include a gallon of water per person per day, non-perishable food, a flashlight and extra batteries, a first aid kit, medications and copies of important documents. Full details are available here.
Make a plan. Have all household members plan what steps they should take if an emergency occurs so everyone knows what to do in a crisis.
Be informed. Learn what emergencies can occur in the area and how officials notify residents should a disaster occur. Take a First Aid and CPR/AED course.
You can visit redcross.org to find out more about how to protect yourself and your loved ones from fire or contact your local Red Cross to find out about smoke alarm installation events in your community. You can also help by volunteering your time or making a donation to Red Cross Disaster Relief by visiting redcross.org, calling 1-800-RED CROSS or texting the word REDCROSS to 90999 to make a $10 donation. Donations to Disaster Relief will be used to prepare for, respond to and help people recover from disasters big and small.