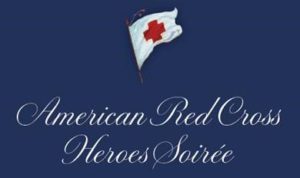 The 2018 Heroes Soiree, presented by DCPMidstreamLP, was indeed a night to remember. The event, held at Wings Over The Rockies, had the perfect feel for the Heroic 1940's theme.
"What a night! We heard some fantastic, inspiring hero stories and we are getting a new emergency response vehicle!  To use 1940's language, it was a "killer diller" of an evening!", according to Jeff Riley, Chief Development Officer for the American Red Cross of Colorado. More than 650 people attended the gala Friday evening, March 9, 2018, and in one night, raised more than $560,000 to fulfill our mission and purchase a new and improved emergency response vehicle for Colorado.  Thank you for your generosity!
"I could not have been more honored to join our Heroes on stage Friday evening. It was truly humbling to stand with such incredible people and see the amazing stories of their heroism," said Gino Greco, Regional CEO. "These inspiring moments are reminders of the humanity we share with one another."
We are proud to have honored these eight incredible Heroes at the event and are excited to share their stories here as well. Take a minute to read about them and watch their inspiring stories; beautifully captured by our friends at Fireside Production.
Casey Cornelius: Casey and her mother were in the kitchen when her mother went into cardiac arrest. Casey grabbed the phone and dialed 911 while she began CPR. While on the phone with the 911 operator she continued CPR for more than 14 minutes. Without the effort of Casey her mother would not be here today.
You can see her story here: Casey Cornelius, 2018 Youth Hero Recipient
Emily Givens and Michel Liegey: A team of lifeguards at Spruce Pool in Boulder, recognized an unconscious swimmer in the water. The team activated their emergency action plan and removed the victim from the water. They then performed a primary assessment and recognized the victim needed CPR. The swimmer survived this incident thanks to Michel and Emily's quick response, knowledge of American Red Cross Life-guarding and CPR skills, and their commitment to the safety of our community members.
Andi McCall  and Kim Garcia: On July 6, 2017, deputies with the Arapaho County Sheriff's Office and South Metro Fire Rescue were called to the Cherry Creek Vista swimming pool on report of a drowning involving an 11 year old boy. Upon arrival of emergency personnel, the boy had already regained consciousness and was breathing, due the quick actions of trained lifeguards, Andi and Kim, who performed life saving CPR. After being admitted to a local hospital overnight for observation, he was released the following day.
See the collective story of these four lifeguards, and the two lives they saved, which made them heroes in our community: Water Safety Heroes
Todd Riley: The assistant principal at Thornton's Century Middle School. During the Las Vegas shooting he himself was severely injured but still took action to help a woman, pulling her away from gunfire. Amidst the chaos he and a stranger tried to administer CPR, then put her a wheelbarrow and took her to the first responders onsite. Though the woman did not survive, his heroic acts gave her a chance at survival and ensured she did not die alone. His call to action is that more people know what to do in situations such as the one he found himself in on October 1, 2017.
See the full story and learn more about Todd's call to action here: Todd Riley's Story
Jordan Daniels: A true patriot with a tremendous volunteer spirit. He is a Navy Veteran and conducted 2 deployments in support of Operation Iraqi Freedom. Jordan works for Concerned Veterans of America. He conducts countless hours advocating for our Colorado veterans and their families. His firsthand knowledge of veteran needs and his ability to convey them to members of the Senate and Congress in DC and in Colorado are vital for their well being and continued support.His tireless efforts have a profound effect on our veterans and their families.
See the impact Jordan has in our community here: Jordan Daniels, True Patriot
Crista Casas: From wildfire recovery and mitigation right here in her home state of Colorado, to damage assessments and "muckouts" of the homes of victims of flooding from Hurricane Harvey, then medical, rescue, and humanitarian aid in response to the Mexico City earthquake, 2017 was a busy year for Crista. She has responded to dozens of operations and is a tireless volunteer and supporter of the community, and is like so many amazing volunteers, driven and selfless. In addition to her work as a volunteer, she is a Firefighter/EMT at Windsor-Severance Fire Rescue; her story is quite inspirational.
Learn how Crista found purpose with Team Rubicon after her military career and see her inspiring story here:
Events like this are made possible through the support and generosity of our sponsors. Not only do they help us honor these incredible community members, but their gifts help the Red Cross fulfill the mission to alleviate human suffering here in our communities, every day. Thank you to those who help make the work of the Red Cross possible here in the communities we serve, and around the country.
Check out the many photos shared from attendees by searching #HeroesSoiree on your favorite social media platform. Downloadable photos from the evening can also be found here: 2018 Heroes Soiree Photos
Check back later for even more event photos tomorrow.