Story by Kate Walters
Local Red Cross volunteers from Colorado & Wyoming have recently traveled to Northern California to help in the aftermath of The Camp Fire, They have, or will, spend their holidays away from their families while they help others. The Red Cross focus of the humanitarian effort in California shifts toward recovery and rebuilding after what is being referred to as the deadliest and most destructive wildfire in California history to date.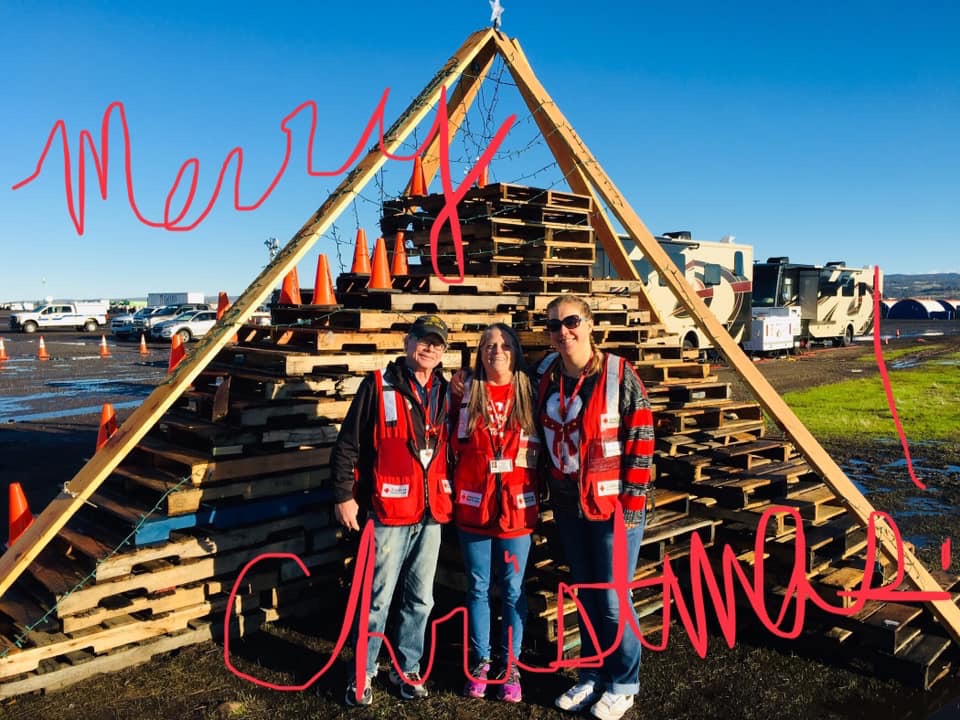 Tom Bethke, of the Red Cross of the Mile High Area, has been assigned as a lead caseworker. He and his team will help identify needs and assist shelter clients in their efforts toward rebuilding their lives.
Kendall Shafield, with the Red Cross of Southeastern Colorado, is serving as the district feeding lead assigned to facilitate provide meals in the shelter.
Darlene Moore of the Red Cross of Northern Colorado is assigned to help support clients who are currently staying in the shelter.
Sharlene Reynolds and MacKenzie Ward of the Red Cross of the Mile High Area are both assigned to support sheltering operations.
Clark Buck of The Red Cross of the Mile High Area will serve as a manager at the shelter.
The November 8th fire destroyed almost 14,000 homes and over 500 businesses in and around the town of Paradise, in Butte County, CA. Red Cross volunteers have been on the scene since the day the fire broke out. At first, they were providing immediate needs such as food, water and shelter as well as counseling and reunification efforts. Today, 182 Red Cross disaster workers are still on the ground supporting the daily needs of almost 800 shelter residents, as the focus turns in the direction of recovery and next steps.
Since the fire erupted over 6 weeks ago, a total of 38 volunteers from Colorado and Wyoming have each committed 2 or more weeks of their time assisting those affected by the disaster as they face the daunting challenge of reestablishing their lives.
Volunteers report that the weather conditions are more challenging than they had expected. Heavy rains have produced wet and muddy conditions around the tent village where they are housed. The days are chilly, and the sun sets early.
"It's cold, it's damp, it's windy. But the resiliency of these people who have lost everything inspires us." -Kendall Shafield